Locks and Security News: your weekly locks and security industry newsletter
21st October 2020 Issue no. 530
Your industry news - first
We strongly recommend viewing Locks and Security News full size in your web browser. Click our masthead above to visit our website version.

---
Cat's out of the bag - Catalytic Converters targeted by thieves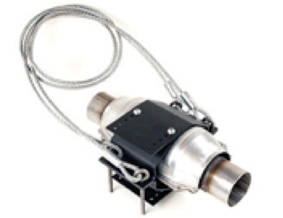 Whilst there are many press reports that state that the number of vehicles being stolen is decreasing in many markets, cases of component theft appear to be increasing. This shows that improved security may make it more difficult for entire vehicles to be stolen, but criminals will adapt to find new ways of making profit from theft.
Since the global economic recession in 2008, theft of catalytic converters in particular in the USA and the UK has been increasing. Due to the scrap value of the precious metal in them, this type of theft continues to be a problem, and as more thieves realise the low skill and short amount of time needed to commit this crime, it is becoming an increasingly common occurrence.
What's the Story?
Whether the recent increase in articles relating to this type of theft reflects a genuine increase in theft incidences, or simply an increase in the number of reports, it is nevertheless a problem. The actions of vehicle manufacturers such as Ford, who are now offering Retainagroup's marking product to their customers as an aftermarket solution reflects this. The instances of catalytic converter theft in the news usually report fleets or multiple vehicles being targeted. It is uncommon to read an article on catalytic converter theft where just one vehicle has been hit. However this does not mean individual vehicles aren't being targeted, it simply means these cases are not in the news.
Catalytic converter theft is not collated nationally, it is recorded as "theft from a motor vehicle" which accounts for a wide range of different thefts, and therefore catalytic converter theft cannot be quantified accurately. However, anecdotal evidence may give an indication about the growing size of the problem:
* Motor home insurer Caravan Guard reported a huge 550% increase in catalytic converter theft during 2010 compared to 2009.
* The UK's largest supplier of aftermarket converters EEC, have registered a substantial increase in unit sales.
Which Vehicles?
Although no one vehicle manufacturer is being targeted in particular, vehicles with high ground clearance such as SUVs, 4x4s, motor homes and light commercial vehicles are chosen by thieves because the converter is more accessible.
How is it Profitable?
Catalytic converters contain precious metals such as; platinum, palladium and rhodium that can fetch from $680 - $1660 per ounce. Thieves take the converters to a scrap yard and sell them for cash. The converters are then sold on to specialists who extract the valuable metals through a complex process called carbochlorination. The extracted metal can then be sold at a much higher value.
For thieves catalytic converter theft is easy and can be highly profitable. No specialist knowledge is required and each catalytic converter can fetch a couple of hundred pounds.
Many scrap yards and recycling centres make the crime easier for thieves, because much of the time no questions are asked. Maybe this is unsurprising because there is no incentive for the scrap dealers, reporting a stolen converter to the police does not earn them money, in fact by doing so they lose money, so why would they bother?
For the victim it can cost thousands to replace because much of the time the rest of the exhaust must also be repaired. For many victims of this crime, the vehicle in question plays a part in their occupation. Therefore the theft of their catalytic converters means loss of earnings as the vehicle is unfit for use until the unit is replaced.
Theft Prevention Advice
In order to combat this increase in catalytic converter theft there are technologies and techniques that can be adopted.
Marking the converter - This makes the converter easily identifiable as a stolen part, and whilst it won't always prevent the act of theft, the displaying of a notice in a vehicle window stating that the converter has been security marked may act as a deterrent to thieves. Many garages in the UK which have been affected have teamed up with local police forces to offer free marking of catalytic converters. For more information on vehicle identification methods, watch our video.
Lock it to the frame - There are a number of products available that incorporate "aircraft quality" steel cable that resists cutting and secures the converter to the vehicles frame. Despite the description given by the manufacturers of these products, do they stand up to the brute force of real world attacks? SBD have expertise in this area, if you are looking for information and knowledge on ways to prevent this type of theft, or would like SBD to carry out some testing, talk to one of our experts.
Install an alarm system - There are alarm systems that pick up motion or movement of a vehicle and there are now specific systems that can be installed onto the exhaust which activate either an existing alarm or a specially installed siren if it detects tampering with the catalytic converter.
Conclusion
Although at this time statistics for theft of catalytic converters are unavailable SBD believes that this type of theft is a growing issue. The anecdotal evidence available reflects an obvious increase in the rate of this crime.
SBD suggest that owners of vulnerable high clearance vehicles remain vigilant by parking strategically and/or investing in one of the previously mentioned theft prevention methods. Fleet managers should consider the benefits of taking pro-active, preventative measures to avoid becoming victims and vehicle manufacturers should give more consideration to how to package protect the catalytic converter and other high value components on their future models.
For more information contact [email protected] Or call +44 (0) 1908 305 101.
30th May 2012
---